Your presence can be your super power!
You can have all the degrees, certifications and accolades, even a big title, but if you can't influence others then you are not an effective leader. If you want to be seen as more credible, authoritative and trustworthy, understand the key power components of your presence and learn how to optimize them.
Some of the ways, this program will empower the participant are:
Learn to align your inner and outer presence and project your best self
Enhance your presence to lead a meeting, a movement, or an organization.
Build an impactful boardroom presence to command the room
Galvanize your teams by igniting performance and infusing energy
Authentically connect, foster commitment and drive change
Take control of difficult situations and show grace under pressure.
By providing constructive feedback, help your people to identify their areas of improvement.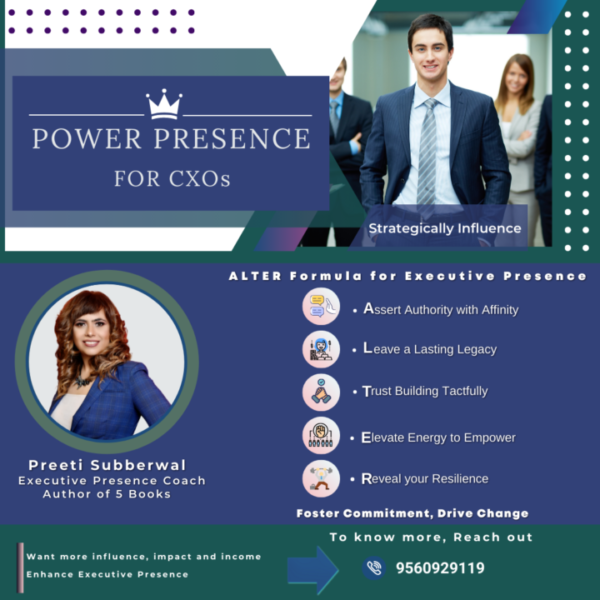 testimonials
Our Happy Clients
Preeti is a sought after coach and trainer who has established herself as an expert in her domain through selfless service and candid contribution. Her extensive experience in trainings is evident in her delivery style. She is very bright and talented in this domain. Her empathetic nature makes her understand and connect with each and every participant deeply and impart more effective trainings. I really admire Preeti for her genuineness and exceptional competencies!
Preeti Subberwal is a high potential trainer and influencer. She has delivered some brilliant presentations on Holistic Wellness and Virtual Presentation Skills for some forums that I am spearheading including FMA, FIA and others. The thoroughness in her preparation and passion in her delivery is really commendable. I would certainly recommend her for training and coaching services to organisations, professional bodies and individuals.
I have been associated with Preeti for more than a year now. She has given trainings and coaching in our company. We have received very good feedback for her training. She connects to the people very fast. They have benefitted a lot from her coaching. The changes that people have undergone were amazing.
I knew Preeti as a professional colleague at Comviva and was impressed when she decided to take her career in the direction of training and development. As a trainer, she worked with employees across the board to help them develop their self-awareness and their ability to improve their performance, largely with NLP techniques. Her sessions were fun, informative and empowering.
Preeti is another name for re-invention. She continually innovates her offerings & keeps her updated with the industry trends. Her subject knowledge & commitment to quality is commendable. A great person to work with, She holds several years of experience in delivering training programs for corporates as well as SMEs. At Tap-DC, she's our preferred faculty-on-panel for Leadership Development Programs. Preeti can be trusted to do justice with any engagement she signs up for.